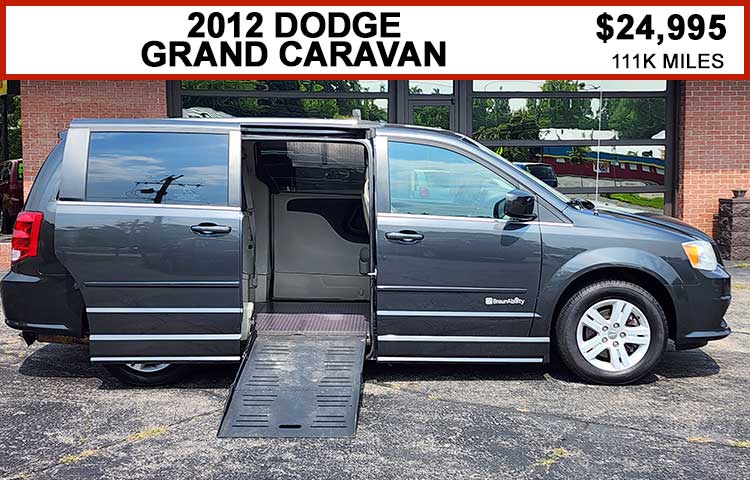 OFFERED BY:
WHEELCHAIR VANS LANSING
1916. Cedar St.
Holt, MI 48842
---
CALL RIS ANYTIME
517-230-8865
2012 Dodge Grand
Caravan #175
3.6 V6 Engine, Air Conditioning, Cruise Control, Tilt Wheel, Power Door Locks, Power Mirrors, Power Sliding Doors, Power Side Ramp, Power Drivers Seat, Power Hatch, AM/FM CD Stereo, Backup Camera, Tinted Glass, Rear Wiper, Rear Defog, Light Gray Cloth Interior, Keyless Entry, Remote Power Doors, Custom Ground Effects.
10" LOWERED FLOOR
54" INSIDE HEADROOM
WHEELCHAIR RAMP (29.5-inch ramp)
REAR BENCH SEAT (seats 3)
POWER SLIDING DOORS
FULL WHEELCHAIR RETRACT TIE DOWNS
A GENUINE BRAUNABILITY CONVERSION VAN
WITH POWER SIDE RAMP AND POWER DOORS.
---
BOTH FRONT SEARS ARE QUICK RELEASE
AND REMOVEABLE.
Backup Camera
Power Side Ramp
Power Hatch